Although government has attempted to combat spam with actions like the CAN-SPAM act, spam continues to be a problem. In this report, Scientific AmeriKen will begin to investigate the problem of spam. The focus of this experiment will be on the unsubscribe link - a device within the email that is intended to relieve the email recipient of future emails from that company. The effectiveness of this link will be tested in two seperate email accounts to determine whether spam can be stopped.





Used in this experiment were two web based email accounts. Email accounts were tracked for 45 days to determine normal levels of incoming spam email. One account averaged roughly 350 emails per day and after 45 days, unsubscribe links were clicked at a rate of 20 links per day. A second account averaged 3-10 emails a day and after 45 days all emails were clicked unsubscribe.
The experiment was carried out over 79 days. The first account averaged 337 emails a day before unsubscribing started. A week after unsubscribing till the end of the experiment the same account averaged 86 emails a day. These results are indicated below.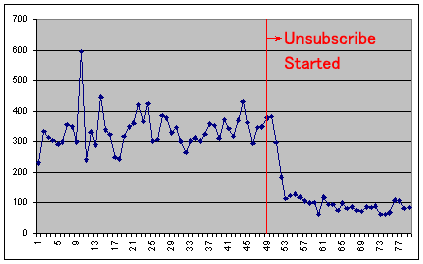 The experiment was also performed on a second email account that averaged 11 emails per day. This account mysteriously dropped to an average of 3 emails per day before unsubscribing even began. Following unsubscribing the account fell to 0 emails a day temporarily until settling back to 3 a day. These results are indicated below.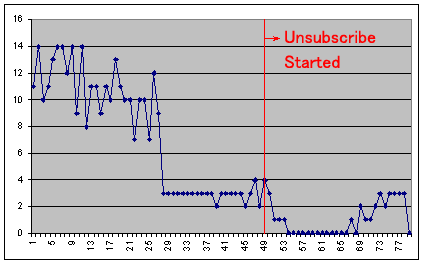 To the surpise of Scientific AmeriKen the effectiveness of the unsubscribe links on most emails actually work. In fact, unsubscribing reduced average emails from 350 to about 80 per day, a decrease of nearly 80%!. However, as expected, a natural selection effect begins as companies with no unsubscribe or malfuctional unsubscribe links begin to dominate. This should lead to a point where average emails per day should stabilize and begin to increase. Thus it seems there are three main classes of spam. The first is spam in which the unsubscribe is functional. The second is spam in which an unsubscribe link is present, but it does not work or is not present at all. The third are virus emails that contain attachments aimed to spread the virus. This experiment shows the effectiveness of targeting the first class. The latter two classes of spam are much more difficult to target and future work will be done in these areas. One such approach for battling the second class of spam is shown in additional information.

In the case of one email where the company had a malfunctional unsubscribe link. Scientific AmeriKen tracked down the offending company and reporting their domain name to their domain hosting company. The following letters document the effort:
August 10th, 2005
Domain: THECCAA.com

Invalid Information:
THECCAA.com is being used to spam. They are sending emails repeatedly that I have clicked unsubscribe to for over 10 days. Specifically the address admin@imperialhostingservers.com, the email under their technical contact is a broken email address that does not work. Please stop this menace.

Sincerely,
Ken Seldeen

August 11th, 2005
Dear Ken Seldeen:

Thank you for your email. The domain name THECCAA.COM is now under investigation for invalid whois. The owner of the domain will have a brief time period to update the information or the domain may be cancelled. I will let you know when the contact information is corrected, or when the domain is cancelled.

If you have any other questions, please feel free to email me.

Thank you,
Domain Services
Go Daddy Software, Inc.

August 29th, 2005
The owner of THECCAA.COM has not made proper corrections to the domain contact information in over 15 days. In accordance with our policies and ICANN regulations we have therefore cancelled the domain name. The domain will go into the Redemption Grace Period for thirty days. If the customer does not redeem the name and update the information, the name will be released five days later.

Thank you,
Domain Services
Go Daddy Software, Inc.

August 29th, 2005
Thank you,

Are we able to report websites that did not register their domain name at GoDaddy.com? I have been doing reserach with SPAM related companies and have found several domains that have incorrect information and are not responsive to user unsubscribe request.

Thank You,

Sincerely,
Ken Seldeen

August 30th, 2005
Ken,

No, we are only able to work on invalid whois that is for Godaddy registered domains. If you have a report for another registrar, you can do it through InterNIC at this link:

http://wdprs.internic.net/

Thanks,
Domain Services
Go Daddy Software, Inc.
It seems that another avenue of attack has been discovered on spam. The effectiveness of going after these companies domain names may be investigated in future issues of Scientific AmeriKen!



top